This bike came to us as a frame and front end.
Photo on the left is half way through a complete Triton build. Right is the finished product just delivered to the front door.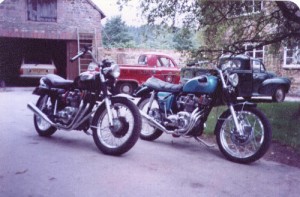 Matt's first full rebuild and mild personalisation was this blue Triumph T150 completed when he was at the tender age of 21, since then Matt's Machine Shop has built or restored a few machines a year. Thanks to Arthur & Darrell at Rockerbox for saving this photo and to Darrell for the use of the Pig farm. We try and build or restore to a high standard and as such are not in the business of down to a budget builds or restorations, we like our bikes to have wheels in a straight line, brakes that work, wiring that doesn't go up in flames and engines properly tuned. When rebuilding 'classic' motorcycles we spend a lot of time and effort roadtesting & Dyno running to ensure that the motorcycle is fit for purpose when the customer collects. All this takes time and unfortunately time costs. We are quite happy to build to the customers ideas and designs but will not sacrifice safety & reliability for looks.